Alfred State celebrated the achievements of over 290 students at the 28th Annual Honors Convocation on Sunday, April 14, 2012. This year's convocation also featured the presentation of Leadership through Civic Engagement Awards from the College Council to nine student leaders and faculty/staff members Mark Payne, Dr. Douglas Pierson, and Wendy Dresser-Recktenwald.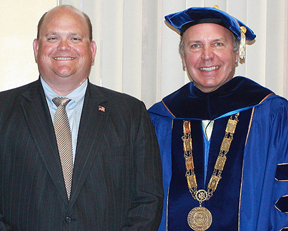 The convocation recognizes the outstanding work of students through acknowledgement of membership in a variety of honor societies as well as the conferment of scholarships and special recognitions. Dr. Stephen Havlovic, vice president for student affairs, presided over the program. Dr. John M. Anderson, president of Alfred State, welcomed attendants and introduced the keynote speaker, Congressman Tom Reed of the 29th District, New York.
Congressman Tom Reed was elected to represent the 29th District of New York in a special election held in 2010. He took office during the "lame duck" session of the 111th Congress and began his own full two-year term in the 112th Congress Jan. 5, 2011.
Tom is a 1989 graduate of Horseheads High School. He graduated from Alfred University in 1993 with a degree in political science, and from Ohio Northern University College of Law in 1996. He then began work in Rochester but returned to Corning in 1999 and opened his private practice. It was his commitment to family and friends, an enduring love for his hometown, and a deep concern about 'petty political issues' that propelled him to seek political office; he served one full term as mayor of the City of Corning, 2008 through 2009. He is one of 12 children raised by Tom and Betty Barr Reed – both long-term residents of the city of Corning. His father was a veteran of World War II and the Korean War.
Currently, Tom serves on the Committee on Transportation and Infrastructure, where he was assigned to the subcommittees, on Aviation, Water Resources and Environment, and Railroads, Pipelines and Hazardous Materials, the last of which he serves as vice chair. Tom was also assigned to the Committee on the Judiciary and was named to the Subcommittee on Intellectual Property, Competition, and the Internet and the Subcommittee on Courts, Commercial and Administrative Law.
Pictured above l-r, Congressman Tom Reed and Dr. John M. Anderson, president of Alfred State.