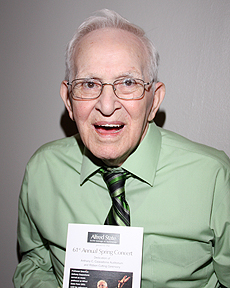 Alumni gathered at Alfred State to celebrate the dedication of the Anthony C. Cappadonia Auditorium, in honor of Professor Emeritus Anthony "Cappy" Cappadonia and his 56 years of teaching and directing instrumental and choral groups at the college.
The event coincided with the college's 61st Annual Alumni Choral Spring Concert, at which Cappadonia was the director. A ribbon-cutting ceremony preceded the concert, and the official dedication occurred during its intermission. Cappadonia was joined by his wife, Ruth "Bebe."
"The Anthony C. Cappadonia Auditorium will forever be a testament to your continued loyalty and musical inspiration to all of your students for over 56 years," read the well-wishes in the program from the Alfred State Choir alumni family. "Your legacy lives on in all of us."
Cappadonia received his bachelor's and master's degrees in instrumental and vocal music from Ithaca College, and did graduate work at Syracuse University and Alfred University. An author of numerous articles in choral journals and a member of the American Choral Directors Association, he is also an accomplished composer whose work has been performed at the National Cathedral in Washington, DC. Cappadonia has also served as a guest conductor and adjudicator for many county, area all-state, and all-state choirs throughout New York and Pennsylvania. He received the Alfred State College Council Outstanding Service Award in 2000.
View photos of this event.