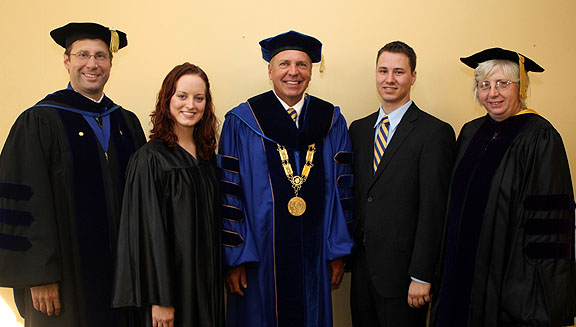 Alfred State College faculty and staff welcomed this year's incoming freshman class of 1,500 students during the 17th annual New Student Convocation. This year's speakers were Dr. Daniel Barwick, ASC Director of Institutional Advancement; Alfred J. ("AJ") LaMere, Rochester, Student Senate president; and Jennifer Lorow, ASC class of 2008.
In his remarks, Barwick told a story about a situation in his past that paralleled one his father had faced some 10 years prior to that. His father, it seems, held to his principles, losing his job by refusing to falsify a report. Barwick, faced with a similar situation as a young adult, buckled under the pressure from his supervisors and compromised his principles to keep a job.
The difference, he says, is "20 years later, I regret my decision every day; 30 years later, my father does not regret his. One of the hardest things you can do is to stay true to yourself, but it is also the most important thing you can do for yourself."
LaMere, taking the podium for his second new student convocation, began by congratulating the assembled freshmen on their choice of colleges.
He went on to recount the local, regional, and global disasters that made headlines last year, as well as the efforts made by Alfred State students, faculty, and staff to alleviate the suffering through commitments of time, energy, talent, and money.
"The satisfaction we feel when we are able to successfully help one another, despite the effort it might have taken, encourages us to do more. Unfortunately, the effort, time, and commitment often seem to be in short supply. So I challenge the students here today to take advantage of the time we have here, not only to succeed academically, but to succeed as humanitarians. This year you are going to be asked again and again and again – What's your passion. What makes you feel alive. And I want you to be able to name it and to share that passion with others around you!"
Lorow began by reminiscing about her years at Alfred State and how the experiences she enjoyed "inspired me and gave me the tools to help me find success after graduation."
Although she was "planning on getting involved on campus, the idea of jumping in from day one hadn't occurred to me."
Encouraged by her adviser to apply as a writing tutor, Lorow says, "I ended up loving the job. It felt rewarding to see the proverbial light bulb flash as the students gained understanding. The experience helped to reconfirm that I wanted to become a teacher. From there, I sought more experiences in my field by writing pieces for the financial aid.
"During all four semesters, I participated in the International Club which welcomed people of all countries to come together to get to know each other. It was fun exchanging stories and seeing my culture through their eyes. All of these extracurricular activities were not only fun but also complemented many of the communication skills that I would later need as an educator.
After graduation, Lorow "transferred to an undergraduate program at Binghamton University. Soon after transferring, I gained a strong appreciation for Alfred State's sense of community. Binghamton demonstrates its own unique charm, but with class sizes sometimes boasting 150 to 200 students, I felt like a number in the crowd. It wasn't easy, but a lot of my success at Binghamton stemmed from opportunities that were first granted in Alfred."
Thanks to ASC's "smaller class sizes, I was able to receive extra attention in classes that had a history of being challenging for me, like math and science. I was also able to get a solid understanding for what a research paper should be like. The extracurriculars at Alfred played a major role in giving me an edge for teaching positions and internships. For example, my experience in the International Club coupled with tutoring skills learned in the writing center, helped me land an awesome job as a teaching assistant for an English as a Second Language classroom. I also interned at a local high school for an elective class called Cultural Exploration Program. These teaching and volunteer experiences were not only personally fulfilling but also helped me gain acceptance in to my graduate program where I am specializing in childhood education and literacy.
"My best advice is to enter Alfred with a spirit of adventure. Find clubs that interest you and explore all that Alfred has to offer. Be the best student that you can be. But still take time to be a part of Alfred traditions like Hot Dog Day. Talk to people in your residence halls. That's how I met my fiancé!
"Now it's time for you to go forth and carve out your own adventure."