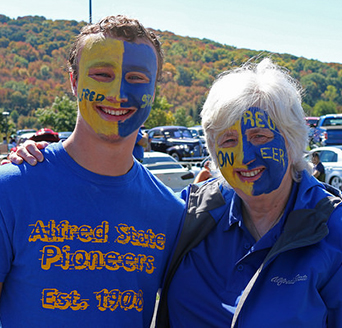 With sunny skies, several new events, and plenty of fun activities for everyone, it's no wonder Alfred State's Homecoming/Family Weekend was so well attended this year.
In fact, according to Spencer Peavey, senior director of student engagement at Alfred State, some alumni, students, and families were calling this the "best Homecoming ever."
"The student responses were amazing," Peavey said. "The attendance rates, from the dodgeball games to the comedian and magician, were higher than ever."
Peavey said the nice weather "absolutely" impacted attendance for Homecoming/Family Weekend, which took place from Thursday through Sunday. He said while he has no way of estimating the total number of visitors because the majority of people at the events were students, he saw more alumni around this past weekend than he has in years.
"Alfred's Got Talent, which continues to be the biggest event outside of the football game, reached a record high for attendance at 500 students, family members, and alumni," Peavey said.
New to this year's Homecoming/Family Weekend were a Greek chili contest, Game Day Live interviews, a classic car contest, a student car show, and a family zone with inflatables and carnival games. The weekend also included several fundraisers, such as the fourth annual Race for a Cure 5K run/walk, which 41 people attended, and raffle baskets during the tailgating event, which raised more than $2,500 toward charities and student initiatives.
In photo above: Alfred State College Council Chair Patricia K. Fogarty and a student proudly display their school spirit during the college's 2014 Homecoming/Family Weekend.