Alfred State students took home second, fourth, and fifth place wins from a field of 17 schools.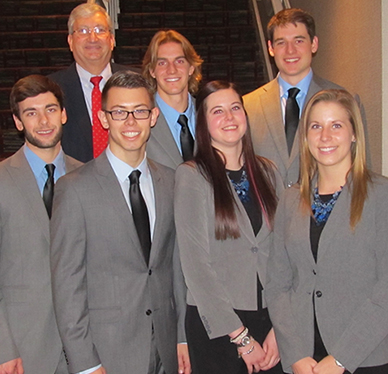 For the past 24 years, top design and construction students from schools across the Northeast and Mid-Atlantic have gathered to prove their worth to potential future employers at the annual Associated Schools of Construction Region 1 Student Competition. This year, 17 schools and more than 200 bright minds vied for placement, and Alfred State students walked away with honors in three categories—a second place in design-build, a fourth place in heavy-civil construction, and a fifth place in commercial building. "Our students made an impressive showing," says Tim Piotrowski, of Jamestown, an assistant professor of Civil Engineering Technology at Alfred State who accompanied them on their trip. "These were real-world simulations with real-world deadlines and all the associated stress. But our students excel at those types of challenges."
Alfred State students traveled to Morristown, NJ, for the two-day event from Nov. 15 to 16, with teams entering each of the competition categories; design-build, heavy-civil construction, and commercial building. The design-build team included Steven Hickey (Penfield), Alex Bragg (Canandaigua), Carley Youngman (Spencerport), Kristin Szkolnik (Syracuse), Zack Kohler (Babylon), and Ryan Grace (Syracuse). The heavy-civil construction team was comprised of Joe Triscuit (Busti), Nate Silsbee (Bath), Clinton Brewer (Olean), Jay Burdin (Corning), Andrew Hydock (Lyndonville), and William Engel (Brunswick). The commercial building team included David Radloff (Glen Falls), Geronimo Rosario (Utica), Richard McCall (Miltown, NJ), Chris Drazan (Bethlehem), Tom Parmenter (Pavilion), and Nick Antonioli (Wellsville).
On Nov. 15, teams were provided with actual contract documents and given 15 hours to create a cost estimate, construction schedule, site-specific safety plan, logistical plan for using the site, and a strategy to execute the project. The following day, each team gave a 30-minute oral presentation to the judges, describing their proposal and why they were the best team to build the project. Teams were then judged on the quality of both their proposal and oral presentation. "This is a capstone to our students' educational careers. They were judged by the very industry professionals who built the projects used in the competition," Tim says.
Although the competition was fierce, students who attended had an unprecedented opportunity to network with their peers and potential future employers during the accompanying job fair, and employers received access to 35 teams of self-motivated students from top programs. "It was a real, first-hand look at the construction industry for our students. They got to experience the level of effort it takes to be successful."
In photo: Design-build team, bottom row from left: Zack Kohler (Babylon), Ryan Grace (Syracuse), Kristin Szkolnik (Syracuse), Team Captain Carley Youngman (Spencerport); top row from left: Assistant Professor Tim Piotrowski (Jamestown), Steven Hickey (Penfield), Alex Bragg (Canandaigua)