Former ASA Cryptographer and Professor of English Emeritus, Joe Flynn, Gives Honors Talk about Spy Drones and the NSA
Alfred State Distinguished Service Professor of English Emeritus Joe Flynn was a guest speaker at an Honors Program seminar at the college on Nov. 25, 2013. Flynn's talk, titled "Hummingbirds at Your Windows: The Omnipresence of the NSA," draws on his work in the 1960s in the United States Army Security Agency (ASA), a predecessor of the National Security Agency (NSA).
As a cryptographer and communications specialist, Flynn had a Top Secret-Crypto clearance and was posted at the 508th ASA Group in Korea and in Northern Virginia. The mention of 'hummingbirds' in his title refers to the amazingly small 'spy drones' now being perfected by the NSA for covertly gathering information from unsuspecting targets. Flynn writes, lectures, and presents at professional conferences on the intelligence activities of the ASA, NSA, and CIA.
The Honors Program was created to encourage students of high academic standing to explore aspects of their program in greater depth and to broaden and deepen their awareness of themselves as responsible, contributing members of a larger community. Honors Program participants complete a series of seminars, as well as a substantial honors project, and 10 hours of volunteer community service.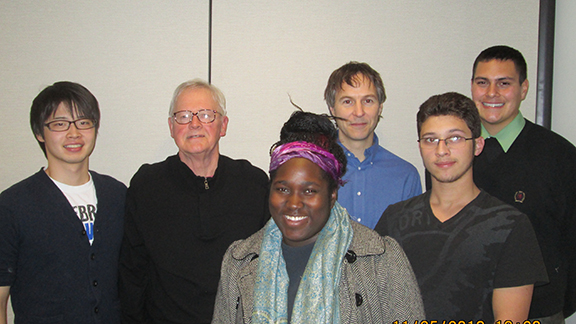 Photo from left to right: Seiyo Hayakawa; Flynn; Tileyah Williams; Dr. Robert Curry, interim dean, School of Liberal Arts and Sciences; Jeffrey Sylor; Joseph Reinhart