Dr. Lisa McCool discussed issues concerning Peru as well as her plans to bring 12 students to the country next May
Dr. Lisa McCool met with Business Department, and the students will bring basic medical supplies and clothing with them to distribute to new and expectant mothers in rural Peru. Students accompanying Dr. McCool may also choose to visit Machu Picchu and Lake Titicaca.
The Honors Program was created to encourage motivated, curious students who had achieved high academic standing to explore some aspect of their program in greater depth and to broaden and deepen their awareness of themselves as responsible, contributing members of a larger community. Honors Program participants complete a series of seminars, as well as a substantial honors project, and 10 hours of volunteer community service.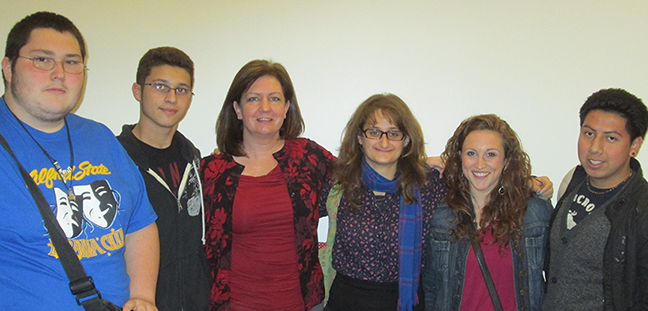 Photo from left to right: Frank Parsons, Jeffrey Sylor, Dr. McCool, Emma Brown-Shaklee, Grace Graziano, Roberto Trujillo