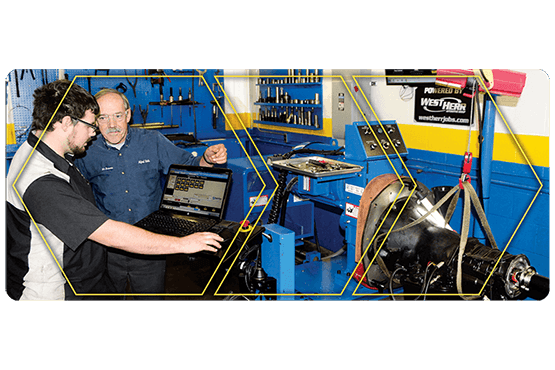 Automotive Trades Professor
Ronan is very passionate about Alfred State and admits he "bleeds blue and gold."
Mike Ronan's interest in automobiles began at an early age. In fact, by the time he was 3 years old, he could already identify every type of car he saw on the road.
"It's a passion that has never not been there," he said. "My passion for cars has always been there."
Ronan's passion persisted as he got older, as he frequently worked on hot rods in his spare time. It would ultimately lead him to become a Rolls-Royce mechanic in California, a transmission repair facility owner, and finally a faculty member at Alfred State, where he has taught for more than 30 years.
Though Ronan has carved out an impressive and much-respected career in the automotive and academic worlds, he initially began on a much different career path – lawyer.
Ultimately realizing his love for automobiles was greater than his love for the law, Ronan decided to pursue his dream of becoming a Rolls-Royce mechanic, which he achieved in the late '70s, when he and his wife, Lynn, moved to California.
While in the Golden State, Ronan attended Skyline Community College for automotive trades from 1978 to 1979. From 1979 to 1982, he worked at Four Car Garage and Olde English Garage in Burlingame, CA, initially laboring at $3 an hour sweeping floors. Through plenty of long hours and late nights of working on vehicles and studying Rolls-Royce manuals, however, Ronan became a respected, top-notch mechanic within 12 months.
"A year later, I'm making $22 an hour fixing the most complicated cars in the world," he said.
By 1982, Ronan and his wife decided to move back to New York State to settle down and raise a family. That same year, Ronan became the owner of Tri-County Transmissions, a transmission repair facility in Yorkshire. Three years later in 1985, he joined the Alfred State Automotive Trades Department as an assistant professor.
Ronan, who is now a professor, said his main goal is to "take the fear out of transmissions" for students, noting that many technicians are reluctant to work on them.
"Technicians are afraid of transmissions," he said. "My job is to remove that fear. My attitude is, 'We can do this. This is going to be fun,' because if it isn't fun, you're going to be afraid of it. So, having fun in the classroom is an absolute key part of my teaching philosophy."
Ronan, who has been a driving force for students and the college for so many years, is very passionate about Alfred State, and admits he "bleeds blue and gold."
"The most important thing to me about this job is that students, faculty, and staff all become one big family here," he said. "It's just the greatest place to work that you could imagine. I absolutely believe that. We have the opportunity to change lives and that opportunity is there every day, all day, 24/7."