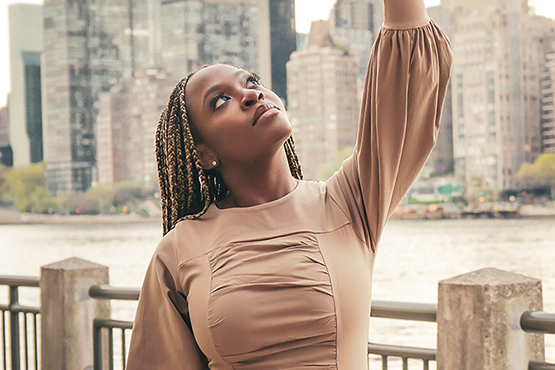 Healthcare Management
Plans changed and Esther was able to finish her degree online.
Esther Adelani carved her own path at Alfred State College as she worked towards her goal of working in the healthcare field.
Esther chose Alfred State because it offered her a balance that was affordable to her and her family. She traveled from New York City and started her studies on campus as a nursing major.
Her educational plans altered when the pandemic hit but her desire to make an impact in the healthcare field did not change. She connected with her academic advisor, Maureen Kinney, and created a new path to her ultimate goal.
"When the pandemic began, academics became a huge obstacle for me. My academic advisor always gave me encouraging words and made me confident in the decisions I was making. She ensured that all my requirements were being met so I would be on track to graduate on time."
Esther pivoted her education to pursuing an associate degree in Individual Studies online. She completed that program, and continued to work online and earned a bachelor degree in Healthcare Management with minors in Business and Psychology.
"The Individual Studies program helped me accomplish my goals by allowing me to bridge the gap and study courses that were still relevant to my initial interests. I had the opportunity to choose from different courses instead of staying with one direct path. Once I finished the first degree I was able to utilize credits I had earned to pursue my degree in Healthcare Management."
Esther is currently working as an Office Coordinator at Memorial Sloan Kettering. She has plans to further education and has hopes to climb the ladder in healthcare with intentions of making an impact in maternal and newborn care.