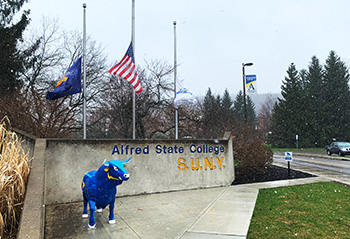 There are many stories to tell during this healthcare and economic crisis. Some of them include tributes for members of our Pioneer family who lost loved ones, how the college is impacted by this crisis, and how Pioneers are helping others..
If you would like to share a Facebook tribute, obituary notice, or other online information regarding your loved one, please send to healthandwellness@alfredstate.edu. Not only are we eager to share your stories online with everyone, we are also available for counseling. Pioneers are here to support one another.
We also invite you to help students facing COVID-19 hardships by donating to the Support Our Students: SOS Emergency Fund.