Frequently Asked Questions
Are all classes now online?
All classes that were face-to-face will begin an online delivery format on Monday, March 23, 2020, with classes meeting virtually on the scheduled days and times. The Academic Continuity by School, Department, and Course Information, clarifies which programs and courses will require additional face to face instruction to complete applied learning/laboratories. For classes that have applied learning content (laboratory and hands-on learning) that cannot be completed online, we will be in contact as to when students will be invited to campus to complete laboratory/hands-on learning.
What academic programs will be online vs. in-person?
Due to the large number of applied learning programs at Alfred State, faculty and staff are evaluating each major to determine activities that can be migrated to distance learning and those that cannot. Face-to-face classes will transition to alternative delivery wherever possible until further notice. By Wednesday, March 18 we intend to announce details for each program of study regarding how classes will resume on Monday, March 23. Watch for additional communication from Provost Kristin Poppo and the three school deans.
What precautions will be taken for in-person classes?
When in-person classes resume for applied learning, consideration will be taken to ensure that abs follow SUNY guidelines regarding social distancing. Every effort is being made to provide a safe environment for students on campus.
What about student absences related to COVID-19?
Faculty are instructed to be flexible for absences associated with this situation on a case-by-case basis.
Will I have access to tutors and academic supports online?
Yes, our Student Success Center professionals are working and will provide assistance to students through online support such as Skype and email. There are also resources available to assist students who are new to the online learning format. See the FAQ tabs labeled Student Services and Student Support for more.
Campus Health and Wellness
What is being done to keep the campus clean?  
Facilities Services has intensified surface cleaning of frequently touched surfaces to reduce germs on surfaces. NYS DOH recommends that schools clean surfaces including tables, door knobs, bathroom fixtures, desks, and public computers. ACES has similarly provided training briefings to dining staff on maintaining cleanliness in all food operations. 
Has ASC increased cleaning on campus?  
From the beginning of March we have been aggressive with increased cleaning. At a time when our emergency preparedness plan only called for a Level 0 or a less intense level of activity, staff have been cleaning consistently at Level 2 to provide much more thorough sanitation. Importantly, our campus cleaning products have been lab-tested and lab-certified as fully effective against COVID-19 virus.  Our crews are also entering select areas of residence halls during the spring break to provide enhanced cleaning while students are away. 
Are hand sanitizers readily available?
Alfred State is adding an additional 100 hand sanitization stations on campus. Special "Stay Healthy" signs to promote hand-washing and hygiene awareness are being added to restrooms and near hand sanitization stations. The log-in screen for campus computers has a "Stay Healthy" reminder and there are messages on all digital signage.
Does the college have space to quarantine people?
Student Affairs and the office of Residential Services has identified and held empty suites to retain the ability for students who are ill to temporarily move into separate space.  These suites would be used voluntarily if a student needs to be quarantined as a precaution and they are not able to move home.
What additional support is available?
University of Rochester Medicince operates the healthcare system in the region.Call the UR Medicine COVID-19 support line at 1-888-928-0011 or your health care provider BEFORE visiting your provider's office, Urgent Care, or the Emergency Room
COVID-19 Emotional Support Hotline 844-863-9314 initiated by Governor Cuomo
If you are a student with specific medical concerns or feeling anxiety about the situation, Health & Wellness Services can help: 607-587-4200, HallHM@alfredstate.edu 
If you are a community member wanting to learn the up-to-date facts that are available to separate fact from fiction, visit the CDC summary page on www.coronavirus.gov 
If you witness nationality bias towards others relating to COVID-19 (xenophobia), please contact the Center for Equity & Inclusion: 607-587-4076, HermanNR@alfredstate.edu
If you are an employee with concerns about the impacts on your workplace/department, please contact the office of Human Resources at 607-587-4025.
If you are a faculty member with concerns about accommodations for student absenteeism or accommodations for illness, please contact your academic department chair.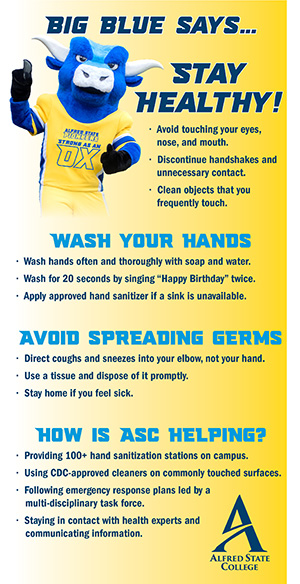 What instructions have come from the Office of Health and Wellness?
Avoid spreading germs
•    Good hygiene is a great defense including frequent handwashing.
•    Avoid touching your face and cough or sneeze into a tissue or your elbow.
•    Bring cleaning supplies to wipe down your computer and living space daily.
•    If you feel sick, let your professors and/or employer know that you'll stay home.
Monitor your health
•    Use a thermometer. If you have any concern, start your day by taking your temp.
•    If running a temperature with a cough or shortness of breath on campus call us 607-587-4210.
•    Do not walk into Parish Hall before calling if you believe that you may be ill.
•    If there's an emergency, always call 911.
How are you encouraging good hygiene?
Signs near hand sanitizer dispensers, in bathrooms, and all around campus promote good hygiene:
Big Blue Says… Stay Healthy
•    Avoid touching your eyes, nose, and mouth.
•    Discontinue handshakes and unnecessary contact.
•    Clean objects that you frequently touch.
Wash Your Hands
•    Wash hands often and thoroughly with soap and water.
•    Wash for 20 seconds by singing "Happy Birthday" twice.
•    Apply approved hand sanitizer if a sink is unavailable.
Avoid Spreading Germs
•    Direct coughs and sneezes into your elbow, not your hand.
•    Use a tissue and dispose of it promptly.
•    Stay home if you feel sick.
Emergency Response and Planning
How is Alfred State organized to respond?
On March 2, we activated our Incident Command System (ICS), assigned roles within that modular system, and are actively using the pandemic section of our emergency response plan. ICS is the federally-approved system for emergency management and participants have been through FEMA training for ICS management.
Who is managing COVID-19 responses?
The ICS team activated for this incident type is a multi-disciplinary team working on the associated concerns originating from COVID-19. In addition to the command group (operations, planning, finance, logistics sections), we have expanded into units within the sections (health, sanitation, academic continuity, cost tracking, dining services, housing) and are coordinating responses in many areas.
What guidance is ASC receiving?
We are receiving and operationalizing guidance from the CDC, NYS Department of Health, Governor's Office, SUNY, and local governmental offices. The work is full-time+ and for many we engage in conference calls with SUNY and health officials daily or more.
What activities have been canceled?
All events through April 30 are being canceled to assist with reductions in population density.
Events canceled include:
"Experience Alfred" overnight visits in March and April
Open House, both April 4 and 19
Honors Convocation April 19
Tom Golisano presentation April 21
Hot Dog Day April 25
All admissions groups and individual visits until further notice
Students, faculty, and staff may check Pioneer Link for the latest student event information.
Are commencement activities going to be canceled?
After much consideration, we are making the difficult decision to postpone our upcoming commencement ceremonies. We realize how heartbreaking this is for our students and their families but we feel this is the best course of action under the present circumstances. There is no date set for when commencement will be rescheduled.
What about athletic programs?
After decisions by the NCAA and our conference, all spring sports were canceled.
What about ASC study abroad students outside the US?
SUNY suspended all study abroad programs in affected countries, including our program in Italy. All schools have been closed in Italy and the CDC issued a Level 3 Travel Health Notice. Our 10 students and one professor in Italy flew back to the US March 5. Upon their return they began an isolation period for two weeks at home. We have coordinated information and details regarding the study abroad students with the DOH.
What if I don't feel well?
Employees should notify their supervisor and HR and stay home if they are sick. HR will work with the employee to determine if illness may be COVID related and necessary next steps.
What if you believe an employee is ill or has been exposed?
Please contact HR immediately if you become aware that an employee has had any known contact with someone who has had possible exposure to COVID-19. If an employee becomes ill, sick leave must be used for hours not worked. We encourage you to continue to wash hands often with soap and water, avoid touching eyes, nose or mouth with unwashed hands, especially before eating, avoid contact with sick people, and if you feel sick, stay home.
Employees who develop fever or new or worsening respiratory symptoms including cough or shortness of breath, should call the UR Medicine COVID-19 support line at 1-888-928-0011 or your health care provider BEFORE visiting your provider's office, Urgent Care, or the Emergency Room. As always, call 911 if you are having a critical medical event.

If I am in precautionary or mandatory quarantine, what now?
Governor Cuomo announced that the State University of New York will guarantee two full weeks of paid leave for all state workers who are subject to a mandatory or precautionary order of quarantine as a result of the novel coronavirus. Employees will not have to charge accruals during the time taken off work for quarantine. This will apply to all state employees, regardless of civil service classification, bargaining unit, and regardless of part time or accrual status. Please communicate with the Office of Human Resources if you are under a mandatory or precautionary order of quarantine.
What if someone is traveling internationally?
At this time, we would strongly encourage all employees to reconsider international travel, especially to countries listed on the CDC's travel advisory list. If you do plan to travel to one of the impacted countries or have recently traveled to one of these countries, please contact the Office of Human Resources. Please visit: Risk Assessment by Country if you have questions or concerns as the information is constantly changing.
If a faculty or staff member has special needs, can they work at home?
We strongly encourage all employees, including those designated as essential, especially those that are age 60 and older and those with underlying health conditions, who feel they are able to complete their work duties from home, to submit a Telecommuting Application (login required) request to their supervisor. Any approved temporary request is subject to revision, suspension or revocation based on future guidance by the College or the Governor's Office of Employee Relations (GOER) and/or SUNY.

Continuity of services: All requests must be based on the expectation that the College, and all its units/offices, are open for business, and that we must provide continuity of operations. In addition, it is a requirement that offices that provide forward-facing services will continue to have adequate staffing to meet the needs of our community. In other words, if there is an expectation that a student, their family, faculty, staff or other individuals would reasonably expect a College employee to greet them in person, an appropriate College employee must be present during normal working hours.

Start with your supervisor: We understand that due to the nature of their work, not all employees have the flexibility to work from an alternate work location. An employee should initiate a conversation with their supervisor, if they wish to and believe they can perform their duties from an alternate work location. A decision will be based on the following:
• The temporary alternate work location is COVID-19-related (e.g., child care due to school/daycare closing, elder care support, additional underlying health risks of the employee or member of their immediate household, etc.). Employees must charge appropriate accruals for situations unrelated to the COVID-19 outbreak.
• The supervisor's confidence that the person's alternate work location is adequately conducive to completion of full core duties.
• Work duties will be performed during their normal work day.
• Normal in-person operations, if applicable, will continue.
• The employee will be available for work-related discussion online or by phone.
Completed Temporary Work from Home Agreement requests should be sent to HR@alfredstate.edu. Ultimate approval will be made at the level of the VP Team.

May I come pick-up my belongings?
Yes. Thursday, March 19 through Friday, March 27 you may come to campus to collect your belongings between the hours of 8:30 a.m. and 4:30 p.m. Contact information for access into buildings and other assistance will be posted on the main doors of residence halls. For arrangements outside of these times you must email reslife@alfredstate.edu.
Students on the Wellsville campus should contact their academic adviser if they would like to arrange tool pickup. Each department has designated a staff member to coordinate. Tools may be picked up through March 27 between the hours of 8 a.m. to 4 p.m. Monday through Friday.
Tool pick-up: Students may leave their tools on campus since we do plan to resume labs at a later date. However, If students need or want their tools, coordinate the pick-up times during the same period while residence halls are open for moving out: Between the hours of 8:30 a.m. and 4:30 p.m. through March 27. We request that you contact your advisor who will then coordinate with the academic department for your tool retrieval. For students at the Northland campus in Buffalo, you do not own tools until graduation.
Storage options: Students have several options for storage of items including a local storage company who will pack, hold, and later return all items in your room, without you even returning to the Alfred campus! There is a charge for this service. Make arrangements directly with the storage company www.AlfredStudentStorage.com or call 607-324-2825.
There is an offer for 30-days free storage from Uhaul.
I'm having trouble finding the bus connections to Alfred now?
Coach USA-Shortline has announced that all service is cancelled until further notice to: Olean, Alfred, Corning, and Elmira. There are many changes to their operations. An updated list is available at the Current Coach USA-Shortline Bus Schedules.
Where's the contact information for departments providing student services?
Starfish Student Support Portal
Direct email contacts for specific support:
Helpdesk 607-587-4357 Hours: Mon-Thurs 8 a.m. to 8 p.m. Friday 8 a.m. to 5 p.m. Weekends
As always, the main phone line is available 1-800=4-ALFRED 800-425-3733
What dining operations are open?
With a reduced number of people on campus, ACES adjusted operations. Alfies is open in the Central Dining Hall for carryout orders. The dining areas are off-limits in order to follow state recommendations. Hand sanitization stations are available at all dining locations along with signs encouraging good hygiene. ACES dining staff has recently completed additional trainings on maintaining cleanliness in all food operations.
What technology help is available for students?
Resources at COVID-19/Tech web page.
Are there free resources for educational support?
In addition to our advisors and Student Success Staff there are many free educational resources available to assist online students. This list of free educational resources will be continually updated.
How do I access Health & Wellness Support?
Initial Contact: Schedule an appointment by calling 607.587.4210 during business hours Mon-Fri 8:30 a.m. to 4:30 p.m.
Remote Medical and Mental Health Counseling: We will send you a link to the virtual appointment through Doxy. This tele-reach process is free and confidential.
In case of crisis, what are the resources?

If you are experiencing a mental health crisis please call 607.587.4210 (8:30 am-10 pm M-F) or University Police outside these hours. As always, in case of an emergency immediately call 911 if off campus or University Police 607.587.3999 if on campus.

During this time of uncertainty please know that the counselors at Health and Wellness Services are committed to your success and well-being. Take care and don't hesitate to reach out if you have questions.