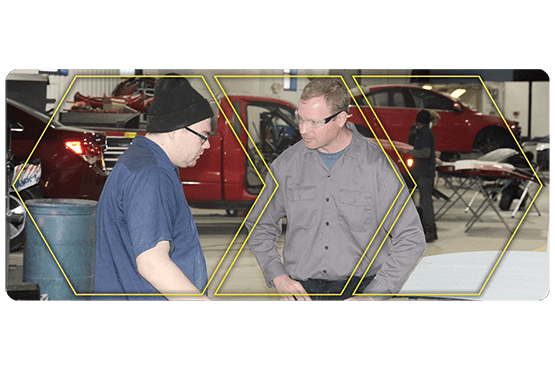 Automotive Trades Instructor
CJ is using his skills and knowledge to transform the lives of Alfred State students, as well as the autobody repair program itself.
With years of real-world experience and an Alfred State education in his toolbox, Automotive Trades Instructor CJ Tremper is now steering future autobody professionals toward the road to success.
Growing up in Avoca, CJ became interested in working on automobiles thanks to his dad, who taught shop class at Avoca Central School.
Initially, CJ was interested in becoming an automotive service technician, but an older friend who performed autobody work at the local BOCES changed his mind. At the time, CJ was working at a local auto salvage yard, which bought and sold wrecked vehicles that could be fixed.
"I spent much of my time in high school fixing a totaled Chevy K5 Blazer that I bought from the salvage yard," he said. "That was my first big autobody project and I enjoyed taking something that had been a complete wreck and making it roadworthy again."
CJ furthered his education and gained even more hands-on experience in Alfred State's autobody repair program, which he graduated from in 1999. After earning his degree, CJ worked in several collision shops through December 2005, developing his skills as an autobody technician and painter.
In January 2006, he transitioned into automotive restoration when he started working at RJ Cars in Arkport. Within a couple of years, CJ became the lead technician and was officially named the body/paint shop manager.
Throughout his time at the restoration shop, many projects CJ worked on were featured in national magazines such as "Mopar Muscle," "Mopar Collectors Guide" and "Muscle Car Review." After years of honing his skills in the field, however, CJ decided it was time for a career change.
CJ began working at Alfred State in February 2017, teaching a partial semester of engine repair. At the end of the semester, he applied for a full-time autobody instructor position that became available and was hired for the job.
Since transitioning into teaching, CJ has continued to attend paint training/certification classes and earned a PPG Master Certification. He is also ASE Master Certified in collision repair.
CJ hopes his students will follow in his footsteps and launch successful careers of their own in the autobody repair industry. Much the same way he used to transform vehicles for the better, CJ is now using his skills and knowledge to transform the lives of Alfred State students, as well as the autobody repair program itself.
"With the help of those around me, we are looking to take the autobody program here at Alfred State to the next level," he said. "Alfred State has a great reputation and we want to build upon that and make it even better."