Is there an instruction guide for using Blackboard?
The student user manual is available in the Tools menu shown in most Blackboard courses. Note that some of the features explained in the manual may not be used in all courses, or may not be available in our version of Blackboard. Extended documentation and tutorials are available on the Blackboard Help Site.
What should I do if my document will not print from Blackboard?
Blackboard usually has no impact on the printing problem being encountered. Instead, the document construction or formatting is the issue. In many cases, document features don't coincide with the normal default parameters of certain printers. In order to print the document successfully, save the document locally (on the computer desktop, for example), then edit the features or formatting of the document (margins, page size, etc.) to be within the acceptable defaults of the printer. Then send the "new" document to the printer.
Note that opening the document from within Blackboard may not allow the proper editing to be recognized "down the line." It is best to simply save it to the computer, then work with it.
How do I access online learning and the online Blackboard courses?
The website for online learning is http://blackboard.alfredstate.edu. Notice there is no "www" in the web address. Enter your Alfred State username and password to login.
What are the computer requirements to use Blackboard?
A recent computer with Windows 10 or the lastest Mac Operating systems and a high speed Internet connection is required. Students can download Windows 10 for free from The Hub. This will enable students to use Blackboard's features successfully. Cookies, Java, ActiveX, and pop-ups all need to be enabled in your Web browser. We have determined that wireless Internet connections are less reliable than hard-wired connections when using Blackboard and will cause problems during tests.
Typically, the latest versions of Internet Explorer and Mozilla Firefox are certified to be fully compatible with Blackboard's features. (However, this is not always the case.) In addition, Blackboard has established support for use with Google Chrome and Apple Safari. Please check the Blackboard Browser Support Site to view information on which browsers are best suited for using Blackboard.
Software requirements vary from course to course, but typically include media players, Adobe Flash, Adobe Acrobat Reader, Microsoft Office or Microsoft Office file viewers. Many of these are free downloads available from their respective websites.
Does Blackboard work with pop-up blockers, firewalls, antivirus, and browser toolbars?
Students may experience problems working in Blackboard if they have any pop-up blockers, firewalls, antivirus, and browser toolbars enabled on their computer. Students may not be able to click on test links or may have problems submitting tests or discussion items when pop-up blockers are enabled. Students may experience browser "freeze-ups" or unexpected "kick-outs" when third-party toolbars such as Google or Yahoo are installed on the student's computer.
We recommend you add our Alfred State Blackboard websites below to a list of "trusted sites" using the tools menu of your browser, and set the security level to a lower setting. This will automatically enable many features in Blackboard to work smoothly. Be sure only trusted sites are added to this list.
What if I have technical difficulties with Blackboard?
How do I remove old courses from my course list?
While course listings are added to your Blackboard list by automatic data transfer from our Banner system, you can hide unused courses so they don't appear in your list on the My Institution page. Start by moving your mouse over the upper right corner of the My Courses box until the gear icon appears, then click on it.

Next, uncheck the boxes beneath Course Name, Course ID, and Announcements of any courses you want to hide from your view. Then, click Submit at the top or bottom of the page.

Your courses are not really gone, just hidden from your list. You can reverse the process to make them reappear.
What do I do if I cannot access a test on Blackboard?
Please address this issue with your instructor.
What if I quit Blackboard or close a test by accident?
Students should take tests carefully. To avoid losing a test, first close down the other programs running on the computer. Avoid distraction and focus only on the test until it is finished. Be careful not to close or even resize the window. Do not skip around the test and do not hit a key in error. Contact your professor immediately should you get locked out of a test.
How do I avoid losing my work?
We recommend that you work on essay questions offline using a word processor such as Microsoft Word or Notepad. Save the file to disk and then use the copy and paste feature to copy the information to the Blackboard essay text box. Saving work that you will be posting online is a good idea (especially if your response is a long one) just in case there is a problem, and you get logged out without submitting the information. Many students have composed long answers online and lost all information upon submission. Students should periodically click the "save answers" button at the top or bottom of the page every five or 10 minutes.
How can I keep my Internet connection from timing out when I take a test in Blackboard?
Some Internet connections may 'time out' your connection to the Internet if there is no activity coming from your machine - e.g., when you are composing an answer to an essay question or taking a test with many questions. This may cause Blackboard to freeze when you press "submit," or redirect you to the Bb login page, or you may get a blank screen rather than a score report and your answers are not recorded. Students should periodically click the "save answers" button at the top or bottom of the page every five or 10 minutes.
What if an operation is "blocked" by my browser when using Blackboard?
Because of security settings, you may encounter dialogs asking you to allow a blocked operation when you attempt to use certain features in Blackboard, such as online tests and when accessing uploaded files like Word documents or PowerPoints.

The yellow bar in the screen shot above alerts the user that an operation was blocked, and offers options to allow successful viewing. Websites at Alfred State, such as Blackboard, are deemed safe. This means you should allow the browser to override the blocked operation.
Depending on how your browser is configured, your experience may be different.
What is ActiveX and how does it affect Blackboard?
ActiveX is technology developed by Microsoft to add interactive features and applications to web pages. Because of ActiveX security issues, you may encounter dialogs asking you to activate it when you attempt to use certain features in Blackboard, such as online tests and typing into text boxes (i.e., fill in the blank questions). These dialogs are often shown in a yellow bar at the top or bottom of the screen.
Depending on how your browser is configured, your experience may be different. Firefox does not explicitly employ ActiveX control. Note that Internet Explorer allows you to add Blackboard to your list of trusted sites. Setting the security level to low for trusted sites will enable more automatic ActiveX control. Be sure only trusted sites are added to this list. Be sure to "uncheck" the box to allow non-https sites to be in the list.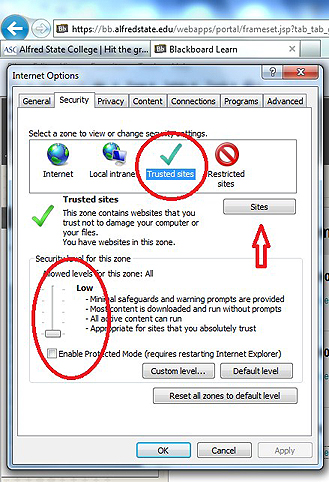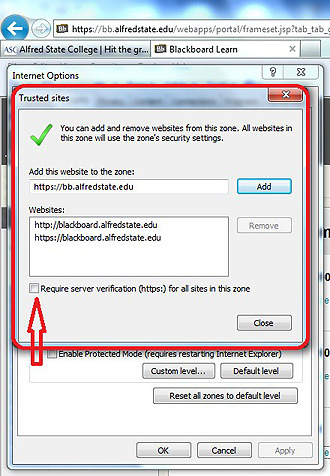 What are some basic testing do's and don'ts for Blackboard?
DO put yourself in a relaxed environment without distractions.
DO make sure you have a reliable computer and internet connection.
DO install the latest version of JAVA on your computer.
DO make sure your computer is configured properly (see the FAQ)
DO close all other programs running on your computer.
DO remove third-party toolbars like Google and Yahoo from your browser.
DO contact your professor and the Help Desk if you experience trouble.
DON'T use a wireless internet connection when taking a test.
DON'T open other browser windows or applications while taking a test.
DON'T skip around in the test or close the test window by mistake.
DON'T use the browser "backward" and "forward" buttons or the "back space" key.
DON'T use the "enter" key to move to the next question or submit.
DON'T click the mouse multiple times to navigate or submit, only click ONCE.