Based on the information that we currently have, below are the current Blackboard issues we are experiencing and possible ways to proceed. Also, please see the Tutorials and Training page for "best practices" that may help eliminate problems in test construction, delivery, and taking.
Testing Issues
Problem Resolution
Fill-in-the-Blanks Problem - A string of unsupported programming code, used by some faculty to prevent copying and printing of blackboard tests, has been shown to cause the problem of being unable to type into the response box for "fill in the blank" style questions. When the code was removed from several problematic tests, the removal fixed the "fill in the blank" issue. This code is not a product of Blackboard, and must not be used. Do not use unsupported code in Blackboard content, including tests. If you need assistance with finding and removing the code from your tests, please contact our Help Desk.
Test Kick-outs, Resets, and "Force Completion" Setting - To address the issue of faculty having to reset student exams when they are "kicked out" we have determined the following: The "Force Completion" setting requires that a student complete the test before it is closed. During a "Force Completion" exam, if a disconnection occurs for any reason, the student is closed out of the test and could lose previously answered questions. This also requires the instructor to reset the exam.
Unchecking the "Force Completion" box in the Test Options enables a student to re-access the test at the point where the kick-out occurred and continue responding for a successful submission without teachers needing to "reset" the test. Leave "Force Completion" unchecked if you do not want to reset tests for students.
"Access Denied" Messages During Tests - Blackboard has determined a software bug in the Blackboard testing module can cause error messages of "access denied" to occur when multiple mouse clicks are made when clicking on submit or navigation buttons. Use only single left button mouse clicks to navigate, save, and submit answers. Do not use the enter key. Please be patient after clicking on a button for a response. Do not repeatedly click the button.
Test Construction Methods and Issues - Blackboard states that some methods of test and question construction involving copying and pasting from Word documents can put hidden "metadata" into text boxes that could cause problems with test display and delivery performance. There are products and practices being investigated that will yield better results in test construction. For more information on Blackboard test creation, please call the Help Desk to set up an appointment for customized assistance in an individual or group setting.
"No action config found for the specified url." Error Received During Tests - This error started to appear on a random basis after the installation of service pack 2 in Blackboard 9.1. We have implemented the necessary fix obtained from Blackboard and the problem has been eliminated. If you receive this message again, please notify our Help Desk.
Assignment/Discussion Board Issues
Problem Resolution
Attached Files in Assignments or Discussion Posts Cause Errors or Cannot be Accessed - This issue may occur when a user uploads a file to the Assignment Manager or the Discussion Board that includes special characters (i.e., '#', '+' symbols) as part of the filename. Users should not include special characters in the filenames of files they are uploading or submitting to Blackboard.
Blackboard recommends including ONLY the following characters in filenames: letters, numbers, periods '.', underscores '_', and hyphens '-'. We recommend having no spaces in filenames, and keeping them as short as feasible. (Spaces may be converted to underscores in the name of the uploaded file.)
Grade Center Issues
Problem Resolution
How to Fix Your Grade Center Scroll Bars in Windows 7 -
Step 1. Right click on your desktop and click Personalize.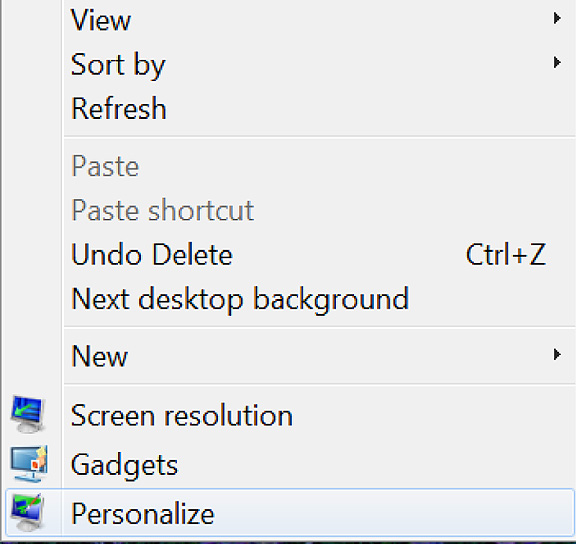 Step 2. Click on the word display in the lower left corner.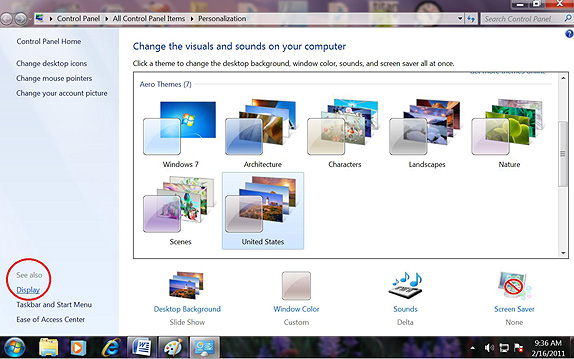 Step 3. Choose the option to make your text smaller, then hit apply.

Step 4. Please note that you will be asked to log off the machine for these changes to take effect. Please log off, log back in, then re-open Firefox.
How to Fix Your Gradebook Scroll Bars in Windows XP -
Step 1. Click the start button and choose Control Panel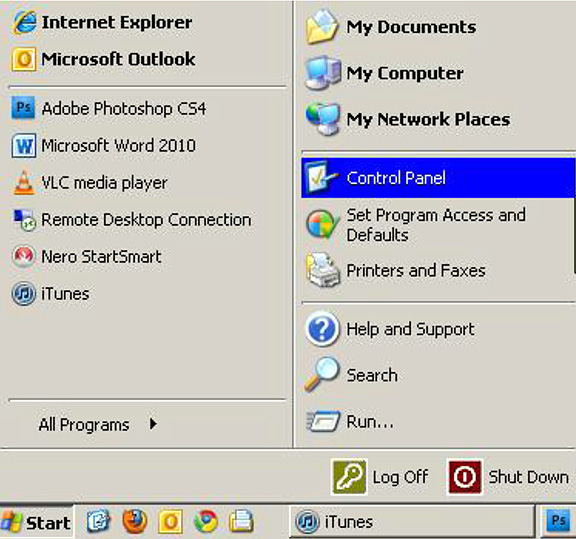 Step 2. Double click the display option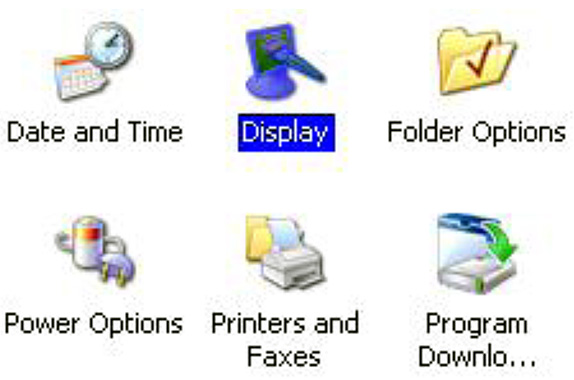 You should receive a window that looks like: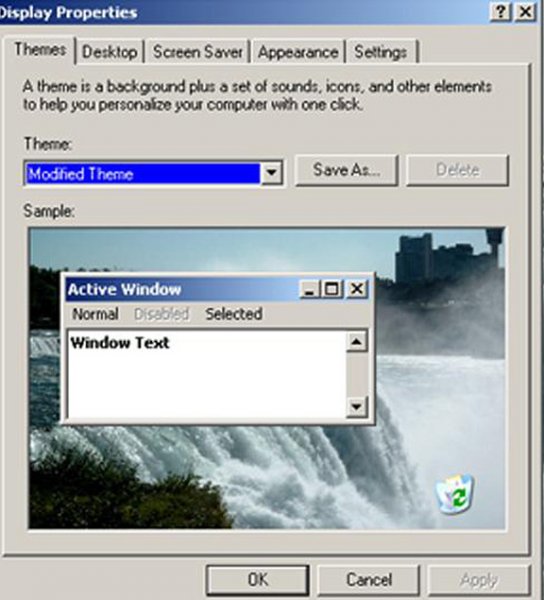 Step3. Click on the Appearance Tab on the top of that window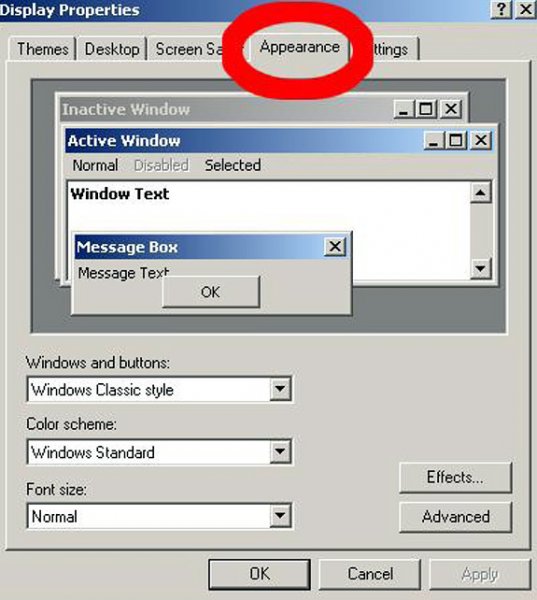 Step 4. At the bottom of that window click font size and make sure it is set to Normal.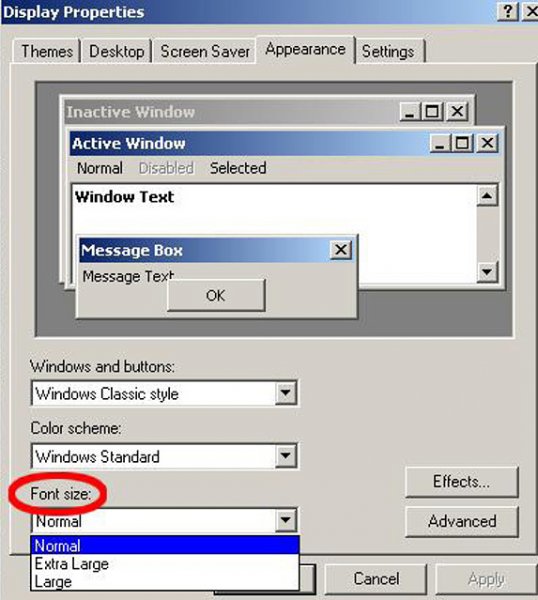 Step 5. Hit apply and restart Mozilla Firefox.
Cannot Access Student Assignment or Test Submissions - Errors have been experienced when instructors try to view student assignment or test submissions through the grade center. Blackboard states that this is due to the grade columns not being assigned to a "category." This is not something that should cause errors, but by setting grade columns into any category, the student submissions for those assignments should become accessible. You can choose a default category or create a custom category yourself.
This is a known issue and, according to Blackboard, has been addressed with a system update. Like all system updates, the benefits and risks will be examined before installing. Until then, the workaround described above has yielded success. Instructors needing assistance with this issue should contact the Helpdesk.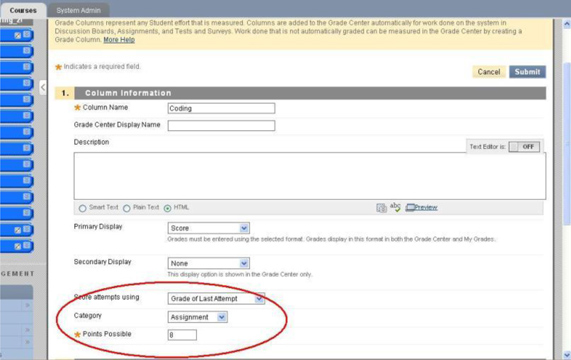 Grade Center Not Loading (Stuck On "Loading" Message) - The image below shows this symptom in action. When clicking on "grade center" the browser indicates that the grade center is loading, but stays in that state. Though we haven't determined the exact cause, it appears to happen in certain browser versions. Upgrading to the latest version of Firefox and using that browser to access Blackboard has alleviated this problem in our testing. Note that Blackboard is also supported to work with Google Chrome, so using that browser may also alleviate the problem.
Printing Issues
Problem Resolution
My Document Will Not Print from Blackboard - Blackboard usually has no impact on the printing problem being encountered. Instead, the document construction or formatting is the issue. In many cases, document features don't coincide with the normal default parameters of certain printers. In order to print the document successfully, save the document locally (on the computer desktop, for example), then edit the features or formatting of the document (margins, page size, etc.) to be within the acceptable defaults of the printer. Then send the "new" document to the printer.
Note that opening the document from within Blackboard may not allow the proper editing to be recognized "down the line." It is best to simply save it to the computer, then work with it.