Career Development Center
Student Leadership Center (SLC) Room 404
8:30 a.m. - 4:30 p.m., M-F

Students and Alums
Check out our big three online branded sites. You can use them while you're at Alfred State and after you graduate.
Looking for an on-campus job? All jobs can be found in JobLink. Get all the details for Student Employment.
Want to schedule an appointment with us? All appointments are now scheduled through JobLink! Create your account or log in and choose - Request an appointment with Career Development.
Your career path...1, 2, 3
JobLink
Where the jobs are! Schedule an appointment.
Work-study, on-campus, internships, and FT.
Check out & RSVP for Career Fairs, Info Sessions
PathwayU
Check out this awesome platform to help guide you to your optimal career pathway.

OptimalResume
Build resumes, portfolios,
interviews, and your website.
Candid Career
Real people + real feelings
= really good career advice
Looking for a paid micro-internship or remote internship? Check out Parker Dewey!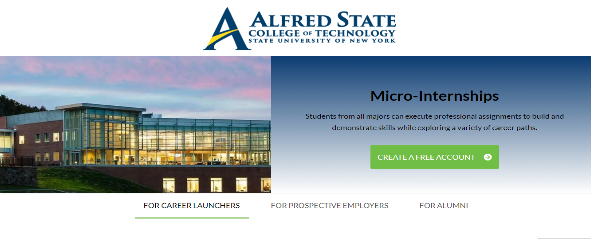 Employer Links
Employers wanting to recruit with us - JobLink is the site for you.
Employment and Continuing Education Reports
A career outcomes report is collected by the Career Development Center reflecting outcomes in the first year after graduation.The detailed report includes data for each major regarding employment, salaries, and employers for those starting their careers.
Ninety-eight+ percent of our recent grads have jobs or are continuing their education in their chosen field. An Alfred State degree gets results!
Employment and Continuing Education Reports
Career Development is a Member of