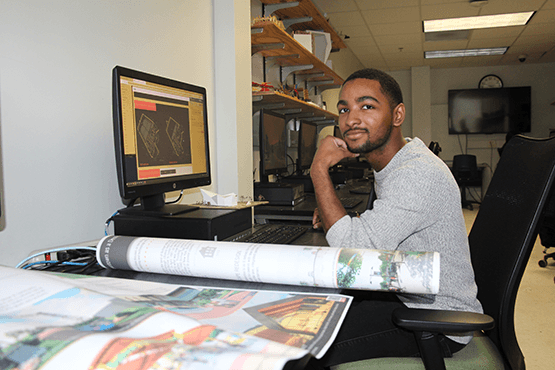 Architecture
Caleb has had some amazing experiences, including studying abroad in Sorrento, Italy.
Growing up, Caleb Boyce-Wright developed a fascination for design and drawing, which ultimately led to him enrolling in Alfred State's architecture program.
Since becoming a Pioneer, Caleb has had some amazing experiences, from studying abroad in Sorrento, Italy, to presenting a community visualization study at a conference in Washington, DC. He was also able to gain real-world experience at CannonDesign, a global design firm in Buffalo, where he worked on everything from space planning, to construction documents, to concept and schematic development.
"It was all very beneficial and stuff that I knew how to do primarily because we practiced some of that here at Alfred State."
Caleb acknowledges that he has received support every step of the way since becoming an Alfred State student, and that he has made friends both inside and outside of his program. He's also enjoyed the small class sizes, the beautiful scenery around campus, as well as the "creative, collaborative, and competitive design atmosphere" within his program.
For anyone considering a career in architecture and design, Caleb strongly urges them to check out Alfred State.
"This major enables you to achieve and you get to be passionate about it, so as long as you have passion, you'll be fine, and your passion will continue to grow while you're here."