New Majors & Scholarships Available
Mechatronics, automation, and robotics are fast-growing career choices that are in high demand among employers who are ready to hire graduates. These emerging fields blend mechanical engineering, electrical engineering, and information technology so that students understand the design, construction, and operation of smart machines.
Additional Scholarships
Up to $6,000 may be awarded to Pell-eligible students based on income. No scholarship application is needed. All students who enroll in the six associate degree programs listed below related to either Ag Tech or Mechatronics are considered for the award. The scholarship is to be used for non-tuition expenses. This award is need based and may be reduced for any student receiving the Excellence in Education or other large-value scholarships.
In-demand Jobs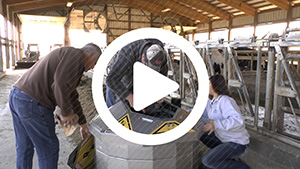 Employers are leaving many good jobs unfilled due to a lack of applicants with the skills needed in this field. Due to the high demand, Alfred State recently added two associate degree majors in Mechatronics Technology and Agricultural Automation and Robotics. By choosing one of these majors, the job outlook is very bright for graduates.
Agricultural Technology
Students may choose to advance their education beyond the two-year associate degrees listed above with either the Ag Entrepreneurship, Interdisciplinary Studies, or Technology Management bachelor's degree.
Mechatronics & Engineering Tech
After achieving one of these associate degrees, students may choose to gain a Mechatronics, Electrical Engineering, Mechanical Engineering, Interdisciplinary Studies, or Technology Management bachelor's degree.
Hands-on Learning
Alfred State's programs combine classroom studies with hands-on learning as students work with many different components and systems to gain proficiency with technology used today and to understand the mechanical, electrical, and technological concepts that will continue to develop and power the future.